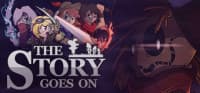 The Story Goes On
Sortie : 02/03/2018 - Consulter les autres sorties xbox de Mars 2018.
Genre : Action Hack'n slash, Aventure
Editeur : Scarecrow Arts
Développeur : KISS ltd
0 membre possède The Story Goes On.
S'inscrire ou se connecter pour ajouter ce jeu à sa collection.
Statistiques : 1 article rédigé.
D'autres jeux Action Hack'n slash, Aventure